0 BBQ food Station Catering
by

The Roo Brothers catering

13-02-2018
Your vote is:
5.00 of 1 votes
BBQ Food Station Catering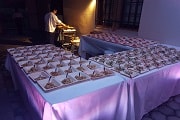 Our BBQ food stations are a great alternative and are a much more fun and chic alternative to buffet tables. Our BBQ stations pack the WOW Factor, an interactive visual experience for your event, entertain your guests. As guests can come over to the station and select a particular bbq item they wish and be cooked to order. Each item is served in eco friendly plates and are designed to be eaten stand up.
"The smell of the bbq wafting through the harbourside venue was just so Sydney, so Australian"- Cosmo Bridal Magazine
Our BBQ Package is perfect for you celebration either for a wedding or large scale corporate event as it offers on site freshly cooked produce served with matching hand made gourmet salads. With friendly and professional staff creating a vibrant atmosphere for your event
We can cater for all different tastes and special dietary requirements and we are self contained where access to power is a problem
Sample BBQ food Station Menu
Lamb kofta with tzatziki and greek salad
Beef and thyme gourmet sausages with artisan roll and sauces
Tiger prawn skewer, (h, gf) saffron pepper and teriyaki mirin glaze topped with crisp leek served with an asian salad
Chargrilled smokey chicken skewers cinnamon pumpkin and fetta With a dill cous cous
lemon myrtle barramundi saffron seasonal vegetable Israeli cous cous
hiramasa kingfish watercress, sprouts & artichoke salad topped with fennel & walnuts
Wagyu Sliders with slaw
Marinated lamb cutlet With a tomato chutney, garlic
Sample indigenous inspired BBQ food Station Menu
lamb cutlets with macadamia nut crust & quandong jus
lemon myrtle barramundi with native berry salsa and warrigal greens salad
kangaroo fillets with a spicy tomato pepperberry jam
Emu Sausage with spicy bush tomato chutney
Do not hesitate to get in touch and discover some great BBQ food station menus, unique to your event.