0 christmas in July catering menu Sydney
Your vote is:
5.00 of 3 votes
Christmas in July Catering Menus Sydney
It's the middle of the year and winter is here. And we all know what that means. It's time for a Christmas in July celebration! July is one of the coldest times of the year in Australia. What better time to fire up the oven and fill the house with warmth and the enticing smells. Food that warms the house and heart, bringing family and friends together. Because that's what it's about. The food!
Christmas in July celebration is a somewhat unusual and some suggest even slightly eccentric festival that now attracts international travellers. Christmas in July' or Yulefest as it is also known is believed to have been born by accident one snowy wintery night in July of 1980 at an award-winning boutique hotel 'Mountain Heritage' in the Blue Mountains. A group of Irish guests noticed the irony of winter weather in July and wanting to recreate the feelings associated with winter back home, asked the hotel proprietor if he could organise a few Christmas-style food and festivities for them that night. Thus was born Christmas in July sporting Christmas decorations, snowmen, mulled wine, carols, roast dinners, mince pies, plum pudding, egg nog, bonbons, Christmas crackers, log fires and the occasional snow fall amongst a magical winter Yuletide wonderland of festivities.
source:http://www.lovekarmapassion.com/christmas-july-fun-facts-history/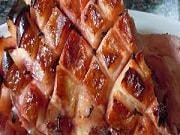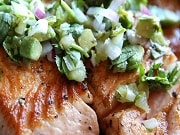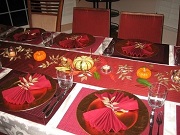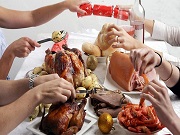 Christmas in July themed table setting and ideas
Lunch or dinner, at home or in the office, bringing everyone together around a magically decorated table. There are so many ways to decorate a table. Use a wonderful decorated wreath as your centre piece, or run lengths of ribbon decoratively along the table. Grab some Christmas Santa hats and Christmas bon bons .They are the centre-piece for the fun. Place one at each place setting as a beautiful decorative feature, and enjoy the fun as your guests pair up to crack the crackers, wear the silly hats and laugh out loud at the it-isn't-Christmas-without-them silly jokes.Kris Kringle gifts can add an extra dimension of fun and interaction
Christmas in July Share Sample Catering Platter Menu ideas
roasted tarragon stuffed turkey breastserved hot with a white wine jus
brandy, rosemary and apricot-glazed hamwith a selection of mustards
baked salmon with salsa verde on a bed of rocket
Maple and balsamic glazed salmon
brown sugar and pepper crusted pork
pistachio and olive stuffed pork belly

salads
watercress and celery salad
smashed potatoes and roasted carrots with sea salt and rosemary
Crisp roast potatoes with thyme and garlic
Crispy smashed potatoes with lemon herb sour cream
dessert
individual mini plum pudding
with vanilla bean ice cream
marsala panettone bread and butter pudding
spiced brandy snaps
fruit mince tartlets