0 Fruit and vegetables for February
by

The Roo Brothers catering

30-01-2017
Your vote is:
4.00 of 1 votes
what is seasonal for the month of February
Fruits
Avocados Berries: Blueberries Berries: Raspberries Berries: Strawberries Figs Grapes Limes Lychees Mangosteens Melons Nectarines Oranges: Valencia Passionfruit Peaches Pears: Howell Pears: Williams Pineapples Plums Prickly Pears Rambutans
vegetables
Beans: Butter Beans: Flat Beans: Green Beans: Snake Capsicum Celery Chillies Chokos Cucumbers Eggplant Lettuce Mushrooms Onions Okra Peas: Sugar snap Radish Spinach Squash Sweetcorn Tomatoes Zucchini
KNOW YOUR BEANS
BUTTER BEANS Swap green beans for sweet and crisp yellow butter beans. To cook the beans, plunge into a pan of boiling water for 2 minutes until just crisp. Drain and refresh in cold water, pat dry then add the beans to your summer salads. Alternatively, for a quick side dish, return the beans to the hot dry pan and toss with a drizzle of extra virgin olive oil, crushed garlic, sea salt and black pepper
SNAKE BEANS Slender snake beans are sold by the bunch and are in peak season from late summer until early autumn. They're quite flexible although they feel firm. Chop beans into bite-sized pieces and add to Asian-style stir-fries, soups, curries and salads. To retain crispness and flavour, rapidly cook the beans. GREEN BEANS A favourite fresh bean, this stringless variety simply requires the stems to be trimmed before cooking. Like butter beans, they're best cooked rapidly to retain their delicious crunch and vibrant colour. For a colourful summer combo, cook a mix of green and butter beans. FLAT BEANS Wide wavy flat beans are cooked in their pods. Drain and refresh in cold water then pat dry. Add a squeeze of lemon juice, a drizzle of extra virgin olive oil then season and toss with crumbled feta to make a delicious side dish.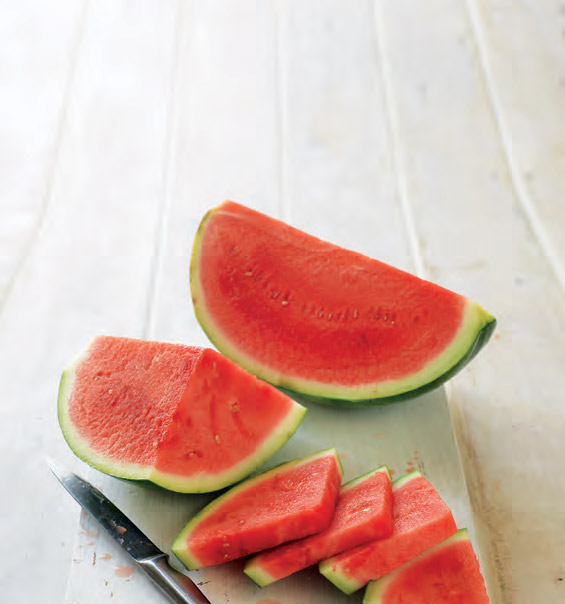 COOL WAYS TO USE WATERMELON
Toss sliced watermelon (remove the rind) with crumbled feta, mint leaves and black olives for a quick and tasty side dish.
Freeze watermelon cubes or balls in a snap-lock bag then use as an ice cube alternative.
Toss watermelon cubes with blueberries and cherries in a luscious summer fruit salad.
Grill it with olive oil, salt and pepper, serve with chilli, lime juice and honey
Salsa it with combined onion,capsicum jalapeno peppers, coriander, fresh lime juice, salt and pepper.
Puree it with strawberries, rose and make sorbet.
Or just eat it