1 Outdoor catering Sydney
Your vote is:
4.67 of 3 votes
Summer is outdoor catering season in Sydney
Whether you're looking for an informal gathering or an intimate banquet, The Roo Brothers has the package to suit you. We can help with suitable locations in and around Sydney, with an array of menu options that would suit every occasion, from our gourmet bbq menu , our paella food station to our grazing table ideas and, of course, our other themed food stations .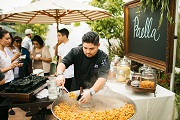 q
Outdoor catering venues in Sydney
With The Roo Brothers Catering we can cater for your outdoor event at a private residence or at any of the public parks throughout Sydney and beyond. We have a working knowledge in the requirements for most Sydney locations in regards to local council requirements and restrictions, such as public liability insurance and marquees. We can advise you with the many site options, the positives eg nearby toilets and negatives eg. no alcohol permitted. We regularly organise outdoor catering events in the Woollahara Council Parks, Centennial Parklands, North Sydney, Mosman including Balmoral Beach and Clifton Gardens.. Please don't hestitate to contact us as we are will happily walk you through the booking requirements of all Sydney locations, should this be required for your next outdoor catering event.
Tips for a successful outdoor catering event in Sydney
Use a gold licensed caterer. Gold licensed caterers will ensure that all public insurances and workers compensation are up to date and the food will be prepared, transported, stored and served in accordance with food safety regulations.
Is there a plan B. With Sydney weather it is vital that a back up location is discuss and secured for the day. Just in case !
Ensure plenty of water . Keep lots of drinks on hand to keep your guests hydrated. If it is a celebration, some organisations may choose to serve alcoholic beverages. However, alcohol is dehydrating and you should ideally keep some cool and refreshing options like water, lemonade, punch or ice tea available for guests. Along with mineral water bottles, include some fresh lemon and mint in pitchers of cold water for a quick pick me up from the balmy weather.
Insects food should be in dishes with lids to keep insects out and use citronella candles or any other insect repellents to keep the uninvited away from your guests - especially for evening events, when insect populations usually double around sunset.
Toilet and fresh water location
Fire restriction. Could the day date of your event be restricted due a high fire dangers and has the corrected steps been taken. Can you still cook the food on a bbq?
We have a passion for great food and believe that outdoor catering should offer delicious food and excellent service. We use top quality, fresh produce and make sure all our ingredients are cooked to perfection by trained chefs to give every customer a little something they wouldn't expect! We have years of experience catering for large groups of people. Just give us a call - and then leave it to us!
Grazing Table Outdoor Food Ideas