Oktoberfest - BBQ Style Menu Options
BBQ bratwurst sausage and sauerkraut in roll
German potato salad
Pretzels
Obatzda (german beer cheese dip)
Apple strudel
Beverages
German beer and Rhine riesling
Oktoberfest - Buffet Style Menu Options
Pork Schnitzel with Rotkohl(red cabbage)
Juicy bratwursts lying on a bed of sauerkraut
Pretzels
German potato salad
buttery spaetzle (gooey macaroni and cheese without the cheese.)
Blackforest Cake
Beverages
Radley ( german lager and lemonade )
German beer and Rhine riesling
German Sausage Guide *
From brat to blood to white, here are six sausages native to Germany for all your Oktoberfest needs.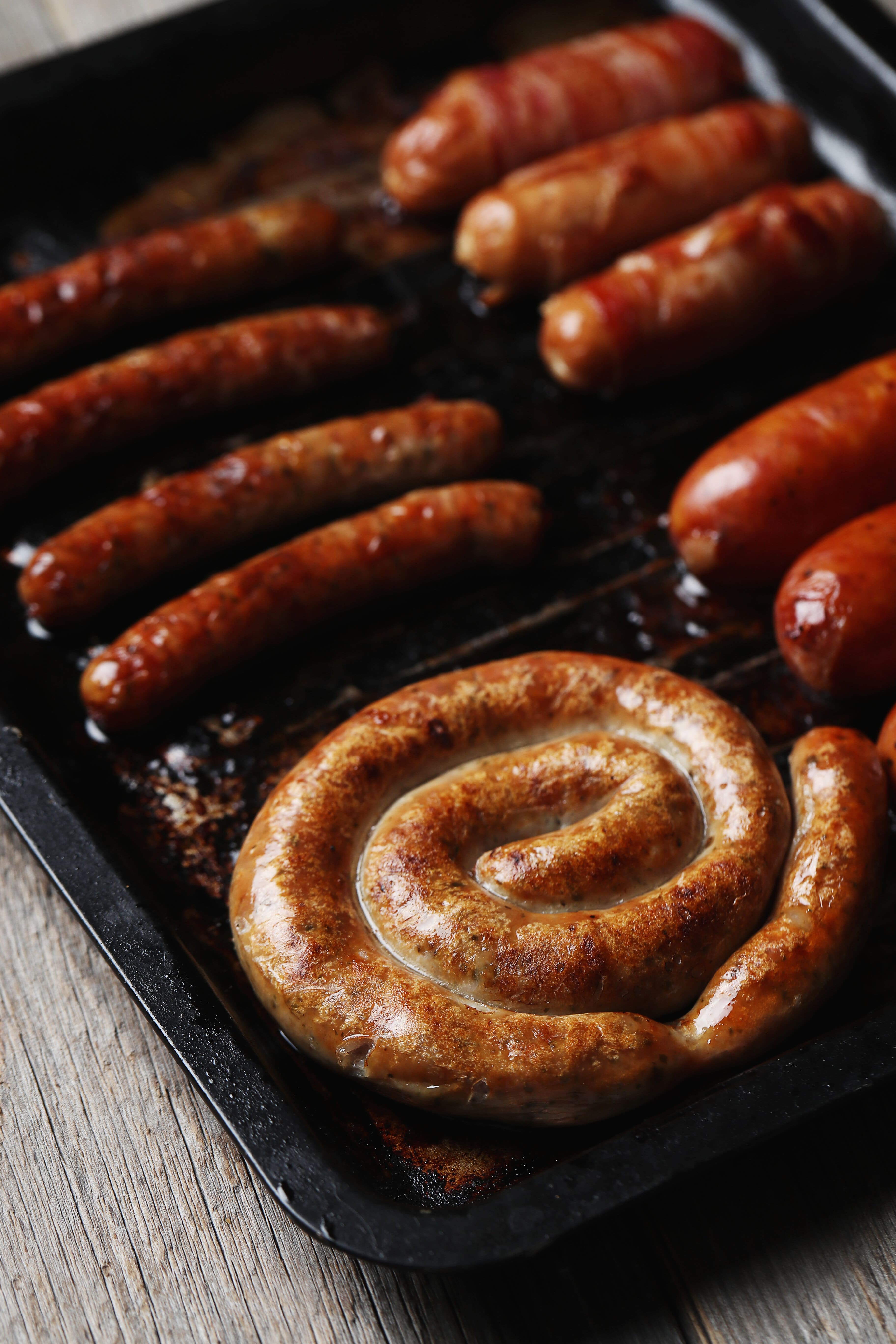 Bratwurst
One of the most famous of German sausages, second only to the Frankfurter Würstchen, the bratwurst—a.k.a., "brat"—is typically made from veal, beef or pork. The recipe for the actual sausage varies from region to region and has, to date, over 40 varieties.
Serve as: A snack, whether in a bread roll with mustard or alongside a pretzel. As a meal, it's often served with a side of sauerkraut or potato salad.
Weisswurst
Made fresh from minced veal and back bacon without the use of preservatives or curing methods, Bavarian weisswursts are the daytime Cinderellas of the sausages; they have to be eaten before noon. In fact, the Germans have a saying that weisswursts should not be allowed to hear the noon chime of church bells.
Serve as: A snack after breakfast or before lunch with a pretzel, sweet mustard and a beer (of course).
Blutwurst
Translating to blood sausage, the German blutwurst is typically made with pork rind and blood that has been cooked down with barley..
Serve as: A meal, like the popular dish called "Himmel und Erde" in Cologne, hot blutwurst served alongside sweet apple sauce and mashed potatoes.
Frankfurter Würstchen
Chances are you know frankfurter würstechen by its other monikers: Vienna sausages, wieners or franks. Or quite simply, hot dog. Yes, the ubiquitous New York street food snack is actually German.
Serve as: An on-the-go snack, in a bun and topped with mustard and horseradish.
Leberwurst
Made with pigs' or calves' livers, leberwurst is a spreadable sausage whose recipe differs from region to region. Some of the spices used in the sausage include black pepper, marjoram, thyme, ground mustard seeds and nutmeg. Butchers have, however, gotten more adventurous with their sausage blends over the years, adding exotic ingredients such as cowberries and mushrooms to the mix.
Serve as: An open-faced sandwich by smearing the leberwurst on bread with some mustard and pickles.
Thüringer Rostbratwurst
iIt is one Germany's oldest known sausages with a reference dating as far back as 1404, and if that's not good enough for you, the sausage has been given a protected geographical indication (PGI) status under European law. Only finely minced pork, beef and sometimes veal is used in its production. And at least 51% of the ingredients used has to come from the state of Thüringia.Thus unavailable in Australia
Served as: A sandwich or on an open roll with some mustard.
Source:Michelin Guide