BBQ catering for weddings and events
There is nothing better than a great Australian bbq, not your sausage sizzle, but a high quality bbq using top quality ingredients and prepared by professional catering chefs in Sydney
"The smell of the bbq wafting through the harbourside venue was just so Sydney, so Australian"- Cosmo Bridal Magazine
All our bespoke gourmet bbq menus are interchangeable which can be served to your guests either as a traditional buffet, a standing buffet or as a relaxed platter style of service. Whether you are looking for a caterer for a wedding, a corporate event, fund raiser, a birthday party or any other special event, The Roo Brothers can customise a menu to suit your needs and budget. In order make sure your BBQ occasion is a stand out event for you and your guests to have a relaxed time, let the team at The Roo Brothers Catering look after all of the planning and execution from start to finish. We, at The Roo Brothers Catering, take pride in ourselves by using only the finest ingredients and freshest seasonal produce, in addition to our interchangable innovative and custom menu design. We can cater for all different tastes and special dietary requirements.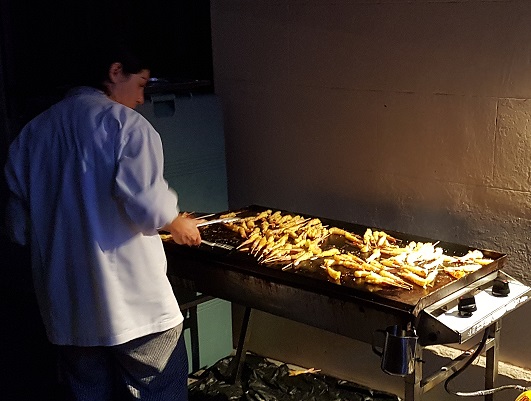 BBQ Catering Locations in Sydney
With The Roo Brothers Catering we can cater for your event at a private residence, established venue or at any of the public parks throughout Sydney and beyond. We have a working knowledge in the requirements for most Sydney locations in regards to local council requirements and restrictions, such as public liability insurance and marquees. We can advise you with the many site options, the positives eg nearby toilets and negatives eg. no alcohol permitted. We regularly organise catering events in the Woollahara Council Parks, Centennial Parklands, North Sydney, Mosman including Balmoral Beach and Clifton Gardens.. Please don't hestitate to contact us as we are will happily walk you through the booking requirements of all Sydney locations and venues, should this be required for your next catering event.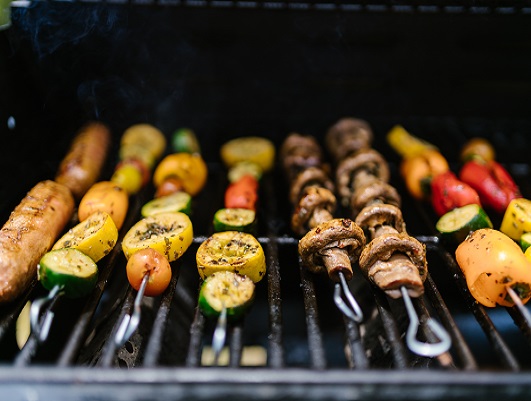 -
sample sydney gourmet bbq menu
Char-grilled corn fed chicken w/ spicy marinade ,chili, smoked paprika, honey, bush tomato
Atlantic salmon Sweet and sticky, grilled lemon
Gourmet beef and thyme sausages w/ roasted tomato chutney
vegetarian Option- Char-grilled seasonal vegetable skewers with tofu and drizzled in extra virgin olive oil, Barbecued kipfler, sweet potatoes w/ salsa verde
-
Salads
Greek salad w Israeli cous cous, lebanese cucumber, cherry tomatoes, fresh oregano and lemon dressing
Classic Roasted potato w/ mayonnaise, spring onion, bacon
Mixed leaf with avocado and pinenuts
-
includes
Slices of cold watermelon
sample sydney seafood bbq menu
marinated sword fish and scallop skewers with dill and a lemon zest
Hiramasa kingfish w/ tomato, anchovy, capers, olives and parsley
Chilli marinated baby octopus
marron lobster with lashings of butter and lemon zest-on request
-
Salads
iranian saffron cous cous w/ mixed herbs and vegetables
Heirloom tomato salad w bocconcini, basil pesto, purple basil, toasted pine nuts and tapenade dressing
-
Optional Dessert Option
watermelon vodka granita
indigenous inspired bbq menu sydney
Macadamia Lamb Rump w/ quandong jus
3 day Marinated kangaroo fillets / a spicy bush tomato and pepperberry jam and glazed with native currant glaze
Lemon Myrtle barramundi fillet w/ cumin and quandong jam
premium Emu sausage w/ bush tomato
-
Salads
warrigal greens, beetroot and feta
charred carrot w/ sorrel, macadamia, parmesan herb vinaigrette
-
Optional Dessert Option
wattle seed deconstructed pavolva with indigenous wild fruits ( quandongs , riberries, wild rosellas) compote
-
Other BBQ catering ideas include our BBQ station
where the chef would cooks the BBQ items in front on your guests and serve on our palm plates and timber forks. This can be eaten standing or seated.