Why We Are The Sydney Catering Specialists
It all starts with the ingredients from our selected suppliers, who source our produce daily and locally whenever possible, and from there we ensure that all our catering menus are Fresh, Flavoursome and Fantastic. Delivering the most delicious dishes are our priority, whatever the setting, from our commercial, purpose built kitchen. Every dish is prepared with the utmost skill and care by well-trained chefs with unwavering enthusiasm and experiences ensuring we provide the freshest, tastiest, beautifully presented items which needs to be eaten with your eyes before your palette..This approach has seen us flourish from a small business, to a cover-all catering company for wedding, private events, as well as corporate catering to some world renowned corporate clients.
Catering for All Events
Location and venue are not an issue, we are versatile Outside Caterers, and can set up our kitchens almost anywhere, rain or shine, as well as offering services to local businesses and organisations. From small buffets to large corporate catering events, we have, we can and we will provide a enjoyable dining experiences. We believe in offering our clients, value, a wide range of catering options, quality and a high standard of customer service from the planning stages through to the end of the event itself.
Get in contact today, we'd love to chat about your event.
We invite you to have a peek at our seasonal menus and to view what current catering options that are available. As with every client, we discuss your requirements, dietary requests, special needs and suggest some different menu options that will meet your budget and expectations. We can assist your event either at your private home or suggest the perfect venue. We take the "stress" out of organising catering events and parties so you can actually be a "Guest" by providing you with practically advice you'll need to pull of the event of the year. From theming, menu design, floral, mood lighting, staffing even props and actors. Creating seamless events means engaging a caterer that is flexible, have know-how and have the attention to detail. The Roo Brothers can help you achieve exactly what you want, where you want it.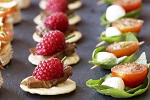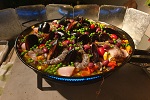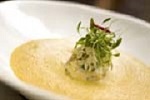 Our imaginative menus and our 'can do' attitude means we are able to provide bespoke solutions for each and every event catering requirement. Individual tailored menus, from handmade canapes to fine-dining options, and everything in between, including unique food stations, buffets, native influenced bbqs and beautiful presented share platters for a relaxed dining experience option. It is all about the flexibility, so every element can be tailored, added or removed to suit your own day, the emphasis remaining on fresh, seasonal produce and treating your guests to a delicious feast.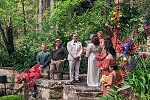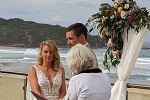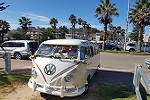 As a full service wedding catering company, we attend to every detail of your wedding. We orchestrate rental equipment, secure locations, and create the perfect atmosphere for your wedding. Our tips and recipes leave no doubt that your guests will compliment you on such a wonderful day or night. And our individualised approach ensures that each event is custom designed and tailored to you and your guests.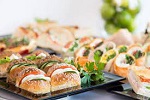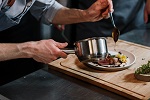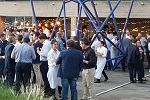 As an established catering company, we specialise in providing corporate catering services for all events from breakfast meetings and working lunches to conference and formal boardroom lunches. Well earnt reputation for consistently delivering excellent quality food, coupled with our unyielding commitment to service and innovation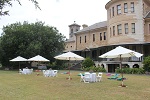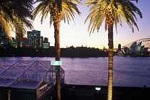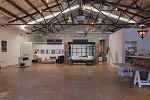 Sydney has many unique and different venues, from contemporary to rustic, limited only by the imagination and creativity. The Roo Brothers, with a working knowledge of many venues, can assist you in your venue selection. Please browse through the venues that Sydney and its surrounding areas has to offer that can be that perfect setting for your next occasion. You can always give us a call on 9436 1133 to discuss these venue options.
-
-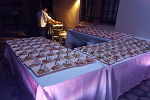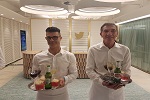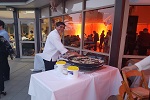 "Our VIP shoppers night was in twelve of our stores all over Sydney on the same night and at the same time! The Roo Brothers did it and did it perfectly." Phil Lademann, Freedom Furniture
"Beautifully executed!. Our store opening in Sydney for 4,500 guests was floorless, then was back up with 3,000 guests in Canberra the very next day! Impressive and professional. Well done and Thank You " Kylia White, Costco
" Our monthly mangers meeting are a challenge and demanding, at least the food catering is seamless and delicious" Alison Mah, Vodafone Hutchison Australia
"Thank you so much for the amazing catering Friday night. It really was just so delicious and so beautiful to look at. I cannot believe how tasty the gluten free and vegan options were" Sarah FB Rice
"The Roo Brothers recently catered our wedding reception in The Blue Mountains. From start to finish Jean Paul and the team were accomodating, friendly and incredibly professional. 6 weeks after the event the food is still being gushed over and the platter style presentation was flawless! Thankyou so much to The Roo Brothers for taking the stress out of our big day and going above and beyond to make sure it ran perfectly!" Mr and now Mrs Baker