We can also arrange an ice bar and have a chef shuck your fresh oyster to order.
Have professional Japanese chefs roll sushi to order with market fresh sashimi perfectly sliced.
Chefs cooking on the BBQ to order with the smells wafting through the crowd.
A Taste of the Mediterranean delicious, fresh and healthy food. lamb koftas, chicken shish kebabs, beef souvlaki, grilled Mediterranean vegetables fresh chickpea hummus with flat breads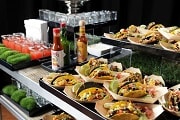 Taco bars are huge right now, especially for outdoor, casual, or beach venues. Our taco bars offer delicious fillings, like grilled lime prawns, steak and local fish, alongside classic toppings like guacamole, shredded cheese, sour cream and traditional salsas. Place this station next to a margarita bar for the full effect
Live Wok food station
Chaing Mai Noodles, Thai Soy Sauce Noodles, Pad Thai- Everyone's Favourite! and Kung Pao Chicken
Yum cha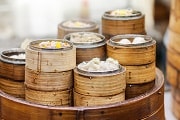 A selection of steamed canapé sized treats served in the traditional bamboo baskets. BBQ pork buns, vegetarian dumplings, prawn dumpling, dim sum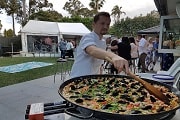 Fresh with saffron rice and your desired ingredients. The ingredients included spicy chorizo sausage, prawns, mussels, chicken, peas, artichokes and jalapeno peppers.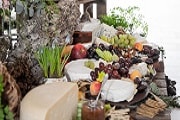 Delicious food beautifully presented on our rustic tables where your guests may help themselves to a variety of menu options, tastes and styles.
Burger Bar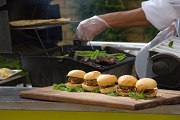 Burgers and Sliders made to order. This interactive burger bar allows your guests to build their own ultimate burger or slider with various choices available including vegetarian options, onion, tomato, lettuce and of course the beetroot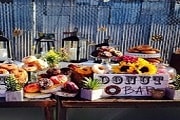 This station can be set up in so many ways with so many options. Lolly bar, donut station, gelato, canape desserts plus much more
Late Night Station
At about 11pm the munchies start, you want some something moorish, comfort food like
Sausage sizzle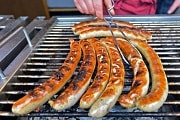 Quality beef and thyme sausages served in a bun with carmalised onion and a choice of bbq or tomato sauce
Carved Ham Station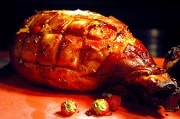 with rolls and a selection of condiments. Another great late night snack!